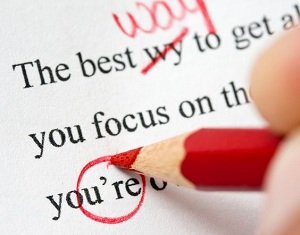 Every student knows that writing an assignment doesn't mean the work on it is done. If you really want your writing to amount to anything, you will have to proofread and/or edit it – and most people have serious trouble modifying their own work. Here is where academic editors come into picture. But how does one choose among dozens of editing services available online? Let us give you some advice.
1. Read Reviews
Social proof is your best friend in these matters. Find the reviews of the company on specialized websites (there are plenty of resources dedicated to sifting through the editing services and finding the worthy ones) and see if they are positive or negative. How often the company's name appears on such sites is another sign to look out for – if you find only a couple of mentions that look suspiciously alike, it is probably not a very good sign. And, needless to say, don't put much trust into testimonials shown on the company's website.
2. Check out Editors' Qualifications
Declared qualifications of the people working for the company aren't probably the best guarantee, but they are something. Better yet if the company can provide some physical proof of these qualifications, like scans of diplomas or something along these lines.
3. Look through Content on the Company's Website
While content on the company's website is most likely written by a completely different set of people, its quality is a telltale sign of the way it treats both itself and its customers. If the company's owners and management can't be bothered to find proper designers and copywriters to furnish their website, how much effort are they going to put into hiring good editors?
4. Compare Prices with the Industry's Average
If prices differ too much from the industry's average without there being a feasible explanation for it, it is probably better to give the service a wide berth. Unusually low prices often mean subpar quality, poor service and lack of guarantees. Too high a price, however, doesn't secure you from these problems as well, which means that if you don't know from a very good authority that this service is worth its fees, there is no reason to overpay.
5. Talk to Customer Support
Again, people on customer support aren't going to actually edit your papers, but the kind of support the service has is a good indication of what kind of employees it hires in general. If support members are slow to react, rude or can barely string two words together without making some grammar or spelling mistake, you should probably steer clear of the service in general.
Of course, in a pinch anybody with decent grammar skills will do as an editor, which means that you can easily ask your friend, relative or acquaintance to help you out. However, you should remember that editing is more than just looking for spelling mistakes – people who make it their job know how to make a text more coherent, how to rephrase things for better effect and so on. If you want real quality, you'd be wise to find a decent editing service.