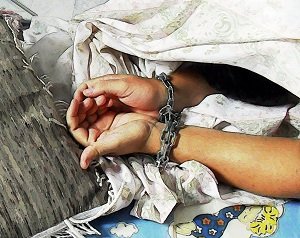 In April 2015, the 13th United Nations Congress on Crime Prevention and Criminal Justice gathered in Doha in order to review the issue of human trafficking. The Secretary-General Ban Ki-moon called modern slavery one of the most shameful acts of human rights violation in the world. Every year, thousands of people around the world are forcefully transferred, sold, and used as labor force against their will, and there is no country that stays unaffected by this problem.
In 2014, reported victims of human trafficking belonged to 152 nationalities. What is more, the instances of human trafficking were reported in 124 countries. Of the entire number of victims, 53% were involved in sex labor, and the rest in other types of labor, including work in sweatshops. Over 70% of the victims were female, and about ⅓ were children. The statistic is dreadful, as the number of children involved in modern slavery increase. Child labor, as well as children's involvement in military activities, is still a problem of the present-day world. Meanwhile, 9 countries have no legislation targeted at human trafficking, and 18 have underdeveloped legislation. The United Nations is working to change this situation.
Human trafficking is not only a human rights issue that concerns its direct victims, it is also harmful in relation to the national and global economy and threatens social and economic development. The International Labor Organization estimated the annual financial damage of the forced labor at $150 billion. The instances of this horrible crime destabilize social networks and entire communities. As a result, families are broken, and social bonds between the victims and their original communities are destroyed. Illegal labor which accompanies human trafficking causes lots of damage to the economy of the country whose citizens fall victims to human trafficking or whose citizens are involved in trafficking schemes. The victims of such become socially disadvantaged and psychologically traumatized. Apart from the social and economic effects, there are also public health consequence: human trafficking is associated with higher risks of HIV/AIDS and other diseases.
The United Nations Office on Drugs and Crime is responsible for the development of programs targeting the issue of human trafficking. Its Global Programme against Trafficking in Persons is supported by every state member that conducts respective actions on their level. There are programs which train police officers, collect data and regularly conduct mock trials. The countries where this issue is the most pressing include Egypt, Senegal, Sudan, Jordan, Chad, Benin, Zimbabwe, Mexico, Nicaragua, Honduras, and other countries of the Middle East, Latin America, the Gulf, North Africa, and South and West Asia. There is also a global UN Voluntary Trust for Victims of Human Trafficking where volunteers assist about 2 thousand victims annually helping them economically, psychologically, and socially.
Only through coordination between countries, global organizations, and local institutions, can the problem of human trafficking be combatted. In general, it has existed throughout centuries, which is why it is hard to eliminate. Hopefully, with enough attention to the issue and willingness of all parties to be involved, human trafficking will become a pastime problem which has no chances to exist in the contemporary world.
References
Global Report on Trafficking in Persons. United Nations Office on Drugs and Crime, 2014.
Haken J. "Transnational Crime In The Developing World". Global Financial Integrity, 2011.
Horning A, Thomas C, et al. "The Trafficking in Persons Report: a game of risk". International Journal of Comparative and Applied Criminal Justice, 38(3), 2014.
McClain NM, & Garrity SE. "Sex trafficking and the exploitation of adolescents". JOGNN, 2011.
Rafferty Y. "The impact of trafficking on children: Psychological and social policy perspectives". Child Development Perspectives, 2, 2008.
Shelley L. Human Trafficking: A Global Perspective. Cambridge University Press, 2010.
Trafficking in Persons Report. The United States of America Department of State, July 2015.
Wilson B, & Butler LD. "Running a gauntlet: A review of victimization and violence in the pre-entry, post-entry, and peri-/post-exit periods of commercial sexual exploitation".
Psychological Trauma: Theory, Research, Practice, and Policy. 2013.
Zheng T. Sex trafficking, human rights, and social justice. Vol. 4. Routledge, 2010.